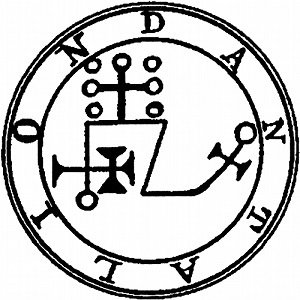 DUKE DANTALION - GAMMA WAVE ENTRAINMENT
SKU DANTALION
Product Details
The Brainwave Entrainment Audio contained herein is for tapping into Duke Dantalion. The frequency used is GAMMA, with a musical accompaniment, which will hasten your mind for his conjuring and place you in the right state for his presence.

The Audio is in MP3 format and is 20 minutes in duration; Included in this download are instructions on how to use this audio.
The Seventy-first Spirit is Dantalion. He is a Duke Great and Mighty, appearing in the Form of a Man with many Countenances, all Men's and Women's Faces; and he hath a Book in his right hand. His Office is to teach all Arts and Sciences unto any; and to declare the Secret Counsel of any one; for he knoweth the Thoughts of all Men and Women, and can change them at his Will. He can cause Love, and show the Similitude of any person, and show the same by a Vision, let them be in what part of the World they Will. He governeth 36 Legions of Spirits; and this is his Seal, which wear thou, etc

Save this product for later
Contact us if you have any questions.